The Blind Creek Solar Farm, nestled in the Bungendore landscape near Queanbeyan, NSW, will produce approximately 350 MW of clean energy and is accompanied by a 300 MW-hour battery storage facility.   
The inclusion of a 300 MW-hour battery storage facility is a significant step forward in renewable energy infrastructure. Battery storage helps stabilise the grid by storing excess energy generated during sunny periods and releasing it during peak demand, making renewable energy sources like solar more reliable and accessible.  
This project was driven by Stride and Octopus in collaboration with Blind Creek Solar Farm Proprietary Limited—a consortium comprising local landholders and renewable energy experts who share a steadfast commitment to sustainability.  
Thanks to the wonderful Stride team, ably supported by NGH for putting together and EIS which lifts the bar on integrating grazing agriculture with solar, DC coupled batteries, conservation and cultural heritage.
Luke Osborne, Stride Renewables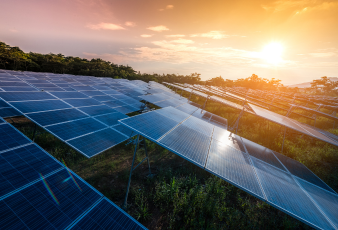 Our journey with the Blind Creek Solar Farm project began in 2020 with meticulous scoping and developing the initial environmental impact statement to subsequent amendments and beyond. Challenges arose due to the project's proximity to Lake George and Butmaroo Creek riparian zones, impacting battery storage options, biodiversity and heritage considerations. 
A key contextual element affecting the project design is Aboriginal archaeology. Avoidance areas have been established through research, modelling, subsurface excavation, and ongoing consultation and involvement with Aboriginal community representatives. 
The Project includes the establishment of an Indigenous Cultural and Heritage Learning Zone (ICHLZ). The landowners have committed to facilitate the establishment of the ICHLZ on approximately two square kilometres in between the proposed solar array and the Lake George shoreline in a geographical landscape identified as having high cultural value and archaeological sensitivity. 
To address some of the biodiversity complexities, we integrated a specific–species management plan into the environmental impact statement, setting a new standard for project planning and environmental stewardship. This approach exceeds established environmental responsibility standards and reflects the project team's steadfast commitment to ecological preservation
Sarah Hillis, NGH
This level of precision in planning ensures the protection of the delicate ecosystems surrounding the project site, particularly for threatened species like the White-fronted Chat. Efforts to protect this threatened species were successful through collaboration with our heritage and ecology team.  
The Blind Creek Solar Farm is an excellent example of how sustainable development and energy transition can go hand in hand. It combines clean energy production with environmental preservation, innovative planning, collaboration, and a long-term commitment to sustainability, making it a model for future renewable energy projects.  
Be in touch with Sarah for information regarding potential clean energy developments, including battery energy storage.