Ornatas, an Australian-owned and operated aquaculture enterprise located in Toomulla Beach, North of Townsville, is at the forefront of sustainable rock lobster aquaculture thanks to ground-breaking scientific methods and cutting-edge technology by researchers at the University of Tasmania's Institute for Marine and Antarctic Studies.  
They are deeply committed to environmental protection and sustainability. Their operation prioritises environmentally sensitive practices and has a clear ambition that their hatchery is designed to be sympathetic to the natural environment.  
Commercially, Ornatas aims to provide Australian and international markets with high-quality, sustainably farmed lobsters all year round.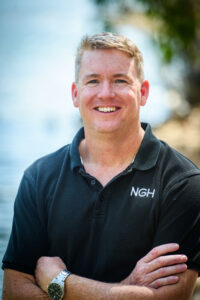 It is truly exciting to work with Ornatas, an organisation with a clear vision, applying cutting-edge practices, and a genuine commitment to growing and operating as a thriving, environmentally conscious aquaculture entity.
Adam Folkers, NGH
Environmental Responsibility
An aquaculture facility in Queensland is categorised as an environmentally relevant activity (ERA) under the Environmental Protection Act 1994, requiring an environmental authority (license) to operate. NGH's dedicated team provides environmental monitoring services to Ornatas, ensuring strict compliance with their environmental authority. This includes monitoring both marine and terrestrial waters surrounding the facility and assessing mangrove health to ensure the facility is not causing any detrimental impacts. 
Adding Value Through Data Sharing
Our team has undertaken monitoring for almost four years, generating a wealth of valuable data. This data is shared with the Dry Tropics Partnership for Healthy Waters (The Partnership), a collaboration that involves industry, scientific research, education, and government stakeholders. Ornatas actively shares this data with The Partnership to produce report cards and scientific summaries, offering an independent assessment of the ecological, social, and economic health of waterways and reefs in the Dry Tropics region. 
Safeguarding Water Quality
Ornatas has undertaken extensive efforts to understand the local waterways, ensuring that their expansion does not negatively impact the environment. Facing the challenge of supplying greater volumes of high-quality seawater, Ornatas worked closely with us to secure a Great Barrier Reef Marine Park approval. This approval will enable the construction of a seawater intake and 1.3 km pipeline to ensure a consistent supply of high-quality seawater, a vital step in their scaling efforts. Obtaining approvals in a marine park and coastal environment proved complex, but our support facilitated the Commonwealth and Queensland Government approvals process for the seawater intake and pipeline. 
Minimising Waste Through Circular Practices
Ornatas commitment to sustainability extends to repurposing a dilapidated prawn farm as the foundation for their aquaculture operation. This innovative approach exemplifies circular principles by reusing existing infrastructure, reducing environmental impact, and promoting sustainable seafood production through resource efficiency and waste reduction. 
Innovative Coastal Protection
Collaborating on the seawater intake project allowed us to identify optimal locations and strategies to avoid sensitive environmental areas and minimise impacts on the coastal environment, including marine plants, coral reefs, and relic reefs.   
Comprehensive Environmental Monitoring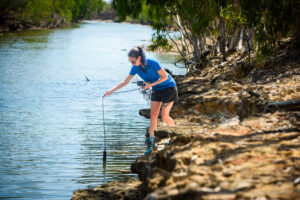 To ensure Ornatas comply with their environmental authority, we designed a comprehensive receiving environment monitoring program (REMP), approval by the Department of Environment Science (DES), and successfully implemented the program. This program includes monthly water quality monitoring (in-situ and laboratory analysis) in marine and freshwater environments surrounding the farm. We also conduct monthly spatial analysis to monitor mangrove health through the Difference Vegetation Index (DVI), providing insights into mangrove health and potential diebacks. Yearly mangrove surveys also track new recruitment and provide a qualitative assessment of mangrove health.   
Sustainable Operations Confirmed
Through rigorous monitoring, Ornatas continues to operate as a sustainable and environmentally conscious enterprise, contributing positively to the aquaculture industry.